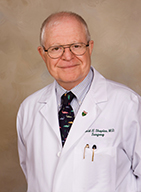 With extensive experience in the treatment of hemorrhoids, and my academic experience as a member of the faculty at USF and years in private practice as well, I believe that I bring a sense of perspective to my practice. Academics have been a beacon in my various career decisions and ultimately brought me to the University of South Florida where I am Clinical Professor of Surgery. I am in private practice at the Hemorrhoid Treatment Center of Florida and continue to teach medical students an afternoon a week in Tampa.
Where I am now is a product of where I have been, and I have extensive experience with practical surgery and patient care. For nearly 40 years, I have devoted myself to the practice and instruction of medicine and surgery, and I feel every experience along the way has been important. Here are some highlights of the places I have been throughout my career:
---
I received my undergraduate education at Williams College in Williamstown, MA and graduated cum laude with honors in biology.
I received my MD at Tufts University College of Medicine in Boston.
I completed my surgical training at Yale, at the Yale New Haven Hospital where I served as Chief Resident.
I then served two years in the Army from 1971 to 1973.
---
The next step was to find a location for the practice of surgery. My choice for the West coast of Florida in preference to the West Palm Beach opportunity that was offered to me was based on the opportunity to teach and be associated with a school of medicine in the Tampa Bay area: the University of South Florida. I dedicated at least one day a week to teaching responsibilities and rose through the ranks of the volunteer faculty as a member and chair of several committees and was the founding president of the Society of Clinical Professors.
Compared to the posts that I have held in many local, state and national professional, community and alumni organizations (please see my CV that follows), none have been more exciting than the concept of an outpatient facility devoted to the care of patients who suffer from internal and external hemorrhoids. I will devote all my energies to the growth and perfection of our new center, Hemorrhoid Treatment Center of Florida.
My choice of where to locate my practice after Yale and the Army was based on my dedication to teaching, and this has continued to be a driving force. I am anxious to continue to contribute to USF as Clinical Professor of Surgery and participate in student education. I am not at the end but rather at the beginning of a new career and I am excited about making our new clinic, HTCF, grow and be recognized as the place to go throughout Clearwater, St. Petersburg, Tampa, and the entire Tampa Bay area of our great state of Florida for the best treatment of hemorrhoid disease.
Click here to review all the details of Dr. Shapiro's career.