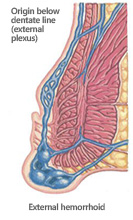 In cases of external hemorrhoids, where the hemorrhoid distention originates below the dentate line of the anorectal canal, the HET treatment system cannot be used  to treat the hemorrhoid. A surgical procedure is required to properly treat the condition. Since there are pain fibers present below this dentate line, local anesthesia will also be required. Keep in mind, however, that internal hemorrhoids can be treated quickly and painlessly using the HET treatment system. If you're suffering from internal hemorrhoids, surgery is not necessary, and we at HTCF can provide you with painless in-office treatment for your hemorrhoid.
Dr. David H. Shapiro, as a surgeon certified by the American Board of Surgery, is fully capable of performing this surgical procedure on patients who require it in an outpatient setting. You can avoid a trip to the hospital or a surgical facility, instead being treated in-office by an experienced, professional, and compassionate hemorrhoid doctor.
Outpatient Surgical Treatment for External Hemorrhoids
Surgical alternatives are typically required for the treatment of external hemorrhoids—internal hemorrhoids and many cases of mixed hemorrhoids can be treated using the Ultroid® hemorrhoid treatment system. The hemorrhoid originates in an area where pain fibers are present, so minor outpatient surgery with local anesthesia is required to effectively remove the external hemorrhoid or skin tags.
Visiting a hemorrhoid doctor in Tampa Bay to discuss your treatment options can be the first step to significant relief from the symptoms of Hemorrhoidal Disease. Contact the Hemorrhoid Treatment Center of Florida at (727) 724-4279 today to discuss what method of treatment is best for you.
---
Flexible Outpatient Hemorrhoid Treatment | Hemorrhoid Treatment Center of Florida
At HTCF, we work to ensure that Hemorrhoidal Disease doesn't cause significant interruptions in your way of life. We are knowledgeable and experienced in the various treatment methods available for Hemorrhoidal Disease, and we perform procedures that minimize the recovery time and difficulty involved. If you're experiencing symptoms of internal or external hemorrhoids throughout the Tampa Bay area, including Tampa, Clearwater, and St. Petersburg, contact the dedicated and compassionate hemorrhoid doctors at the Hemorrhoid Treatment Center of Florida today.