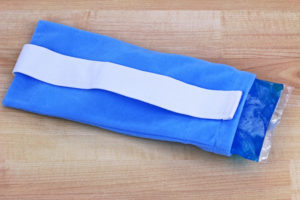 If you frequently have hemorrhoids, you don't necessarily want to see your doctor every time you have a flare-up. Even if the condition worsens to the point that you do need to see a doctor, you may not be able to get in right away. In either case, there are some self-care methods that you can use to help relieve your symptoms and keep them from worsening while you are waiting for treatment.
Sitz Baths
A sitz bath is a very shallow bath of warm water. You sit in the bath for 10 minutes at a time, and it is recommended that you do so at least twice a day. The warm water will help relieve symptoms and give you some relief, at least temporarily. The practice will also help ensure that your anus stays as clean as possible, which can help relieve symptoms and keep them from worsening.
Ice Packs
If you have external hemorrhoids, an ice pack can give you instant relief as well as shrinking the blood vessels causing the hemorrhoids. Use an ice pack for 15 to 20 minutes at a time and repeat as necessary for pain relief.
Witch Hazel
Witch hazel can be found in any drug store and most supermarkets. It is a natural antiseptic and anesthetic. Dabbing witch hazel on hemorrhoids with a clean cotton pad can help instantly relieve symptoms, pain, and discomfort. Witch hazel is also very soothing and can help decrease symptoms for a longer period of time. Many over-the-counter hemorrhoid treatments also contain witch hazel or a similar ingredient.
If you are having a hemorrhoid flare-up and these self care tips are not relieving your symptoms, you should see a doctor right away. Contact us today for more information or to schedule an appointment.